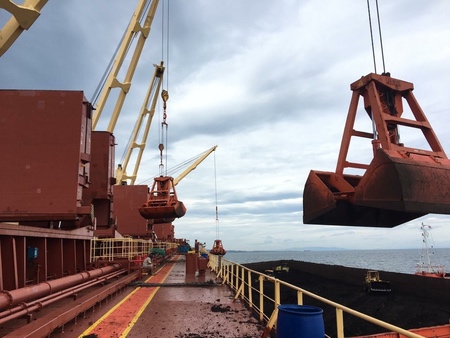 Our Company
Our Company Alesta International Limited is a privately owned international ship chartering & brokering company with giving service to the global market since 2011. As Alesta International Limited family,our main aim is to provide clear,reliable and efficient service to our customers with protecting their rights from the beginning till end of the service.Mainly our services are based on cargoes of general/breakbulk/project /drybulk for the segment of coaster,handysize upto panamax sizes basis the worldwide area/ports. Alesta International Ltd is one of the leading chartering companies in the shipping industry with its extensive knowledge and experience of freight markets,commodity trading,regulation of ports, maritime law and practice with multicultural human relations enabling rapidly designed personalized transport solutions to offer completely integrated dry bulk handling procedures. The company guarantees principled and first-class services by highly experienced brokers while acting as brokers for world wide charterers & owners especially for major commodities as like iron,steel,coal,cement,raw materials , minerals and other various bulk&general cargoes.
Chartering activities of Alesta International Ltd are basis voyage charter,time charter,time charter trip and contract of affreightment for our direct and exclusive charterers/ship operators and relevant third parties.We are focussed on customers demands with evaluating and presenting alternatives to the in front of them in order to find the best solution and act for satisfaction of our customers.
Alesta International works hard and smartly to meet the needs of his valuable clients to ensure that all shipments are handled reliably, effectively and professionally.Alesta International team provides 24/7 service for customers in order to provide efficient and safe operations timely with surely knowing and believing that delays caused serious losses in the shipping market.
Additionally Alesta International is a worldwide trading company which specialized in steel,cement,clinker trading by establishing and keeping long term relationships with our direct manufacturers,consumers and third parties in the global market over 15 years.Our scope is not only limited by buying/selling as our aim to provide a wide range of added services with including an efficient supplement and quality of the service in the total by keeping satisfaction of the customers at the top.We are able to support all our customers on combining market insights,understanding of clients' demands and knowledge of the product and relevant market.
Our

Vision
Over the years, Alesta International has diversified its activities to include commodity trading and a growing portfolio in world wide trading services. Today, our focus remains true to our roots and we continue to build and retaining long-term trusted partnerships with customers of all size and scale.Our goal is to push limits to reach to the highest possible standards throughout creating and delivering value to our fellow associates, customers, shareowners, manufacturers and the community by anticipating change and capitalizing on many arising opportunities

Our

Mission

The company's mission is to provide excellent service with supporting our customers from the beginning till end of the project by building strong relationships which based on a reliable ground.The company connects products,people and process in the line of a controlled business environment and client focus.Our experience dedicated people and drive to become the standar of excellence which enable us to offer the best service in our business.